---
Pacific storm brings areas of rain, high elevation snows and strong winds to California and the Pacific Northwest starting this afternoon.
A cold front crossing the Eastern U.S. today will bring some rain and showers to the Midwest and Northeast.
Chance of severe thunderstorms for the Southern Plains Sunday afternoon and evening.
---
Delivered to your in-box each morning.
---
Starting Monday morning, 27 November, this site will be down for a major upgrade. RVWeather.com will return no later than Wednesday 29 November — sooner if possible. When the site returns, WILMA, our NEW(!) integrated weather impacts product, will be available. The Paywall will also be implemented. RV Weather will continue to provide free access to essential, RV-relevant National Weather Service Warnings and Advisories, current weather, and weather safety information. While the main site is off-line, I will post a simple forecast to my email list and to RVWeather on Facebook.
---
From the RV Weather Winter Office in State College PA:
These are the most significant weather impacts to RV travel over the next two to three days. I do not list every area of rain, showers, or breezy winds. It would be exhausting (for both of us!). Please check out the animations and graphics for a good depiction of the weather along your route.
Pacific:
— Northern WA Cascades above 3500 feet: Winter Weather Advisory Saturday evening through Sunday afternoon. 5-10 inches of snow likely. Stevens Pass, US-2, WA-28 impacted.
— East-central WA; northeast OR: Dense Fog Advisories through midday today. I-84, I-90 impacted.
— OR Cascades: Winter Weather Advisories above 4000 feet Saturday evening through Sunday evening. Snow accumulations 6-14 inches with wind gusts to 50 mph. US-20, US-26, US-97 impacted.
— Southwest and south-central OR; northern CA: Strong winds develop Saturday evening into Saturday night. Gusts 30-45 mph. I-5, I-80, US-97, US-101, US-395 impacted.
— Southeast OR; northern and central NV: Strong winds Saturday night and Sunday. Wind gusts to 50 mph. I-80, US-50, US-93, US-95 impacted.
— Most of northern and central CA north of Los Angeles: Rain and rain showers start this afternoon and continue through Saturday evening. I-5, I-80, US-101, CA-99 impacted.
— CA Sierra Nevada Range: Snow at higher elevations tonight and Saturday. I-80 at Donner Pass should be a rain/snow mix.
— Central CA Big Sur Coast: Strong winds this afternoon and tonight. Gusts 30-40 mph. CA-1 impacted.
— Southern CA Santa Barbara and Ventura County mountains and inland to the I-5 corridor: Wind Advisory mid-morning through this evening. Gusts to 50 mph. I-5, US-101 impacted.
— Southeast CA Imperial Valley: Dense Fog Advisories this morning. I-8 impacted.
Mountain:
— Southeast WY: High Wind Warning continues through early this morning. Strong winds through early afternoon. Wind gusts to 60 mph, decreasing to 30 mph by midday. I-25, I-80 impacted.
— North-central CO: Strong winds this morning through early afternoon. Wind gusts 35-50 mph early morning, then decreasing. I-70 impacted.
— North-central, central and southwest NM: Strong winds Saturday afternoon. Gusts 30-40 mph. I-10, I-25, I-40 impacted.
Central:
— Portions of eastern ND: Strong winds this morning through early afternoon. Gusts 30-40 mph. I-94 impacted.
— Central and eastern OK; north-central TX: Isolated strong to potentially severe thunderstorms possible Sunday late afternoon and evening. I-20, I-30, I-35, I-40, I-44 potentially impacted.
— Portions of south and southeast TX: Dense Fog Advisories this morning. I-2, I-10, I0-35, I-37, I-69 impacted.
Eastern:
— Southeast IN; OH; north-central and northeast KY; WV; western and central PA; western and central NY: Rain spreads west to east today and this evening. Occasionally moderate. Heaviest rain this afternoon over western PA. I-64, I-65, I-68, I-70, I-71, I-76, I-77, I-79, I-80, I-81, I-86, I-88, I-90, I-99, PA and OH Turnpikes, NY Thruway impacted.
— Atlantic Coast from Cape Cod to Cape Hatteras: Coastal dense fog tonight after midnight through Saturday morning. Major highways impacted include I-64, I-95, US-1, US-6, US-13, US-17, Garden State Parkway.
---
---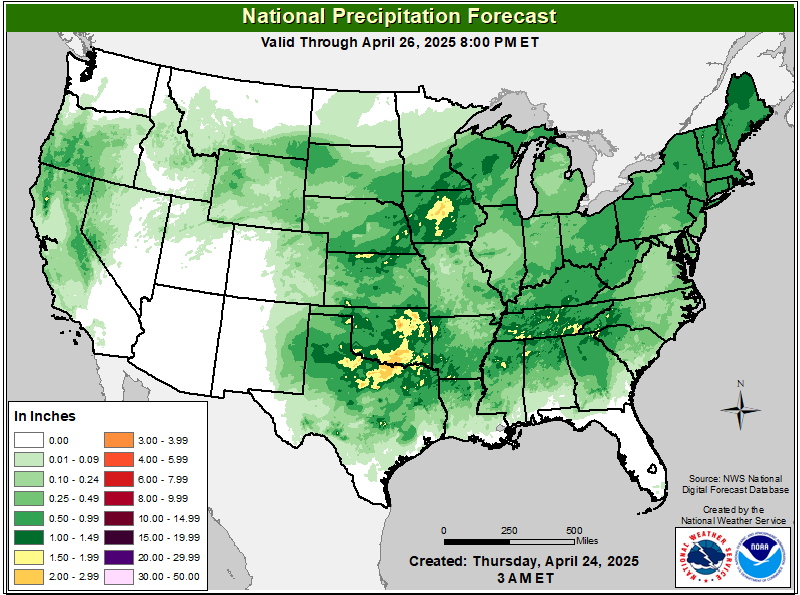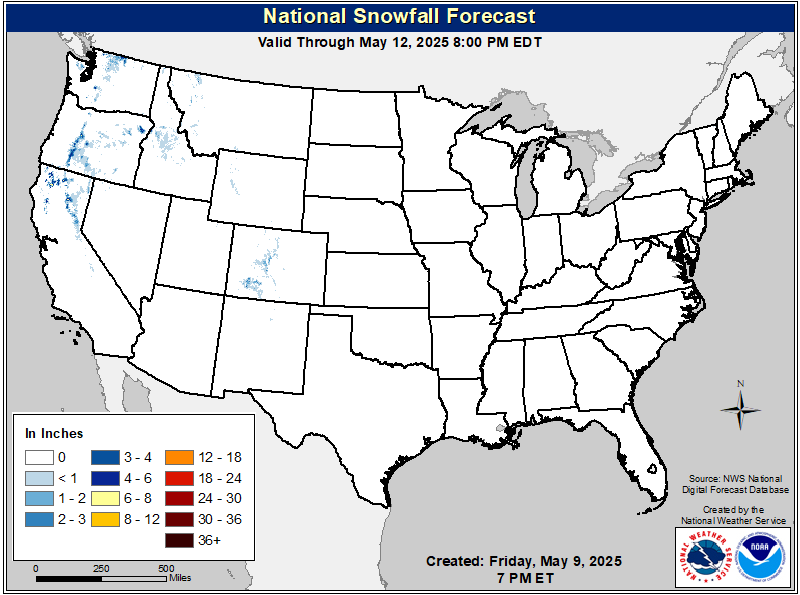 ---
Current Severe Thunderstorm and Tornado Watches from the National Weather Service Storm Prediction Center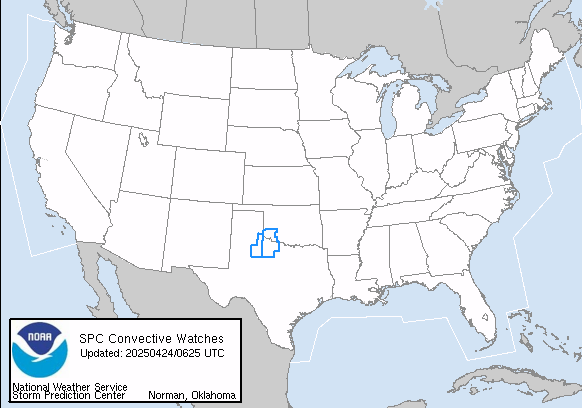 ---
Two-day tropical weather outlook from the National Hurricane Center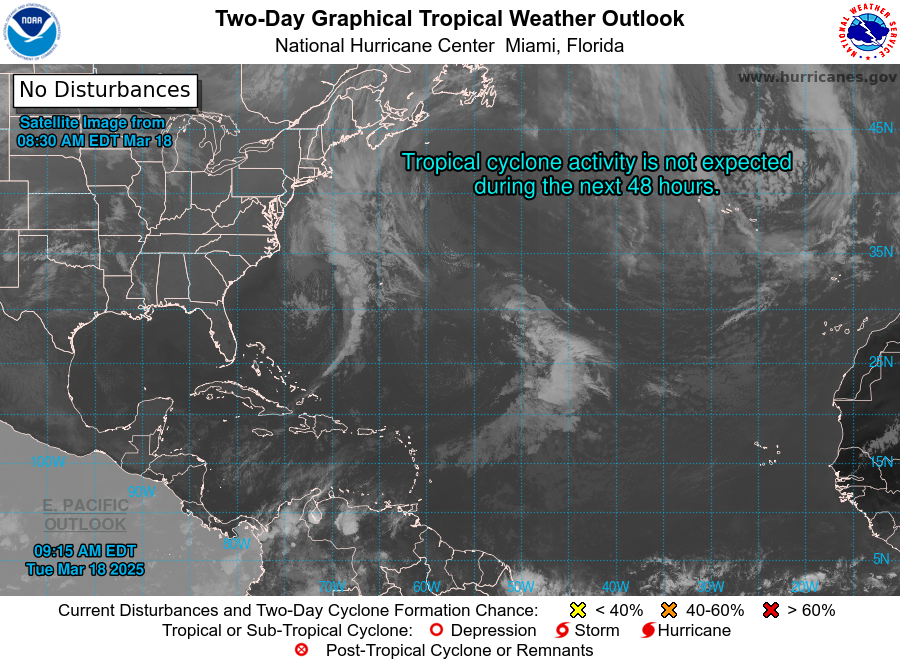 ---
Tornado safety information for RVers (what to do!):
---
Access to real-time road information:
Phone numbers and websites for road conditions in all 50 states. Courtesy of the Cheyenne WY Weather Forecast Office
---
Some useful links:
Thank you for using RVWeather.